Hems International has developed a revolutionary, hydrogen based Emission and Fuel Reduction System that reduces emissions, fuel consumption and overall operating costs.
The Hems System has been independently tested and proven to reduce emissions and fuel consumption by one of the World's leading Environmental Testing facilities in Austria and Germany. (UWS Environmental, Dr Walter Stoltz)
The HEMS Hydrogen Based Emission Reduction System uses compressed hydrogen, controlled and introduced into the air inlet, by the Hems patented control and delivery mechanism. Just a small amount of hydrogen promotes a better combustion process. This improves the thermal efficiency of the engine and fuel, with the added benefit of lesser harmful emissions and fuel consumption.
The fuel and emission figures and percentages quoted in this website are based upon the results of the Austrian and German trials over a period of time.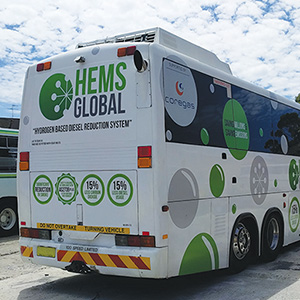 OUR HISTORY
HEMS International is an Australian based, innovative technology  business that has developed the HEMS Hydrogen Based Emission Reduction System, located in Sydney, Australia and has been established since 2010.
The name of our company is based upon the technology that we use: Hydrogen Emission Management Systems (HEMS).
The HEMS team have over 60 years of knowledge and expertise in the transport sectors and Internal Combustion Engine (ICE) mechanical and associated systems.
Over the last several years, the Research and Development team at Hems International have been refining and testing the means to improve the thermal efficiency, improve the fuel economy and environmental impact of the Internal Combustion Engine (ICE)  by using a Hydrogen based fuel enrichment system, with a patented control and delivery system.
The system has been independently certified as compliant with Australian and International Standards applicable to registered light and heavy motor vehicles.
The HEMS System has been subjected to extensive trials here in Australia and in Europe and is the only proven hydrogen based diesel reduction system.
Where do we fit in?
As more and more emphasis and legislation is being placed on vehicle emissions as well as the cost of fuel, the HEMS system enables operators of vehicles to address some of the issues that they face in the day to day operation of their fleet.
Heavy freight transport activity is generally expected to increase in-line with population growth and economic activity.
To meet demand, most of the diesel consumed in Australia is imported and is subject to regional based pricing. Diesel costs are a significant operational costs for fleet operators. The volatility of diesel prices can significantly affect the profitability of a business.
According to the Tracking 2020 Report (published Dec 2015 by Dept of Environment, Australian Government), the transport and haulage sector which includes articulate trucks, rigid vehicles and light commercial vehicles is expected to increase to ~ 38 Mega tonnes of Carbon (MtCOe) annually (approximately 40% of total transport emissions).
Diesel is projected to remain as a primary fuel for the industry being the least cost fuel in the foreseeable future.